"Identical."
By: Ellen Hopkins.
This novel has 565 pages.
It probably seems like a lot of pages but, Ellen Hopkins writes her books in a verse. So it's not written like every book. That's one of the tings that makes the book unique.
"Identical" is deeply disturbing. I don't recommend giving this book to anyone under 14.
I as a teenager cringed at this book. The scenes were breath taking and not in a good way.
I had to put the book down for a while because it was extremely disturbing.
Also, the book changes point of view!
I give this book a 4 out of 5.
For me the free verse was a little distracting at times.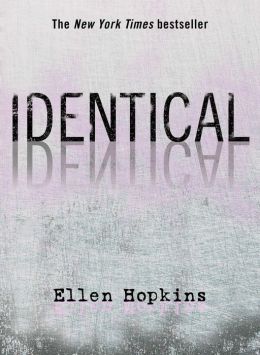 Summary:
Two identical twin girls- Kaeleigh and Raeanne don't have a regular teenage life.
Their dad is district- court judge. Their mom is running for congress.
Kaeleigh has been abused by her father since she was a kid. She's not allowed to tell anyone.
Raeanne wants to protect Kaeleigh but she's jealous of her because their father picked Kaeleigh and not her.
So Raeanne deals with it her way. She skips school gets high and goes to bed with many boys.
But none of the twins can let their secrets go public or that might risk their mother's place for congress.
They both live in constant fear with their father and their mother never being a real mother because she backed away from the family after a tragic car accident.
The accident was cause by the father- Ray.
Ray caused the accident while drunk driving with the both twin girls when they were little.
The mother backs away from the family and escapes to her political career.
The ending of the book was so unexpected.
Read at your own risk! The book was written extraordinarily.
Tell me what your opinion on this book is!