The Dead And The Gone.
By: Susan Beth Pfeffer.
This is the 2nd book in the series of The Last Survivors.
The 1st book is: Life As We Knew It.
Then this is the 2nd book: The Dead And The Gone.
The 3rd book is: The World We Live In.
The 4th book is: The Shade Of the Moon.
Life as we knew it and The Dead And the Gone are companion books.
But I'm going to focus mainly on "The Dead And The Gone."
It has 321 pages.
This novel was filled with panic and breathtaking events.
I read this book in a guided reading group. So I didn't read it in a day. We had the chapters agreed on what we would read for the week.
Thank god, I didn't read it right away because if I did I would have nightmares. The events placed such a clear picture in my head.
I recommend this book to girls and boys ages 12 or 13+.
I give this book a 5 out of 5!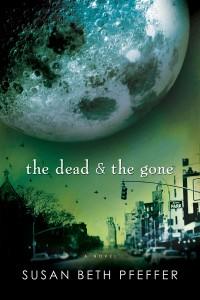 Summary:
An asteroid hits the moon. Which causes many many problems.
Alex Morales is 17 years old, very smart and intelligent. He has an older brother Carlos, who is in the Marines. A younger sister Bri, who is 15 years old and Julie who is 12.
They live in New York.
When the asteroid hits the moon, his mom is supposedly in the subway or at work in the hospital.
His father is in Puerto Rico.
Times in New York City are becoming more and more tough. Everyone is becoming desperate to survive.
After a couple weeks after the asteroid has hit the moon and no news from their mom or dad, they become worried but never lose hope.
If you read this book don't expect a happy ending.
There are lots of gruesome events with A LOT of detail.
So be careful reading it!